Support

These pages cover frequently asked questions and offer background information on the most important topics. If you cannot find what you are looking for, we will be happy to help you — email us your question.
Before contacting us, please read the help file that comes with the product and the FAQs below. Your questions may have already been answered.
Note: We do not provide phone support for Digital Patrol.
Installation and removing
You can download the installation package from this site. To install the program it is enough just to start downloaded setup file and follow instructions of the installation program. Before the installation you will be proposed to accept the license agreement.
If you need to delete the Digital Patrol or Autorun Angel from your personal computer you can do it using the standard mechanism of uninstall of programs in Windows:
Control Panel -> Programs and Features -> Uninstall Programs
The uninstall programs will delete all components and modules of the our software from the your PC.
Questions and Answers [Q&A]
Find answers to frequently asked questions. Please check here for answers before sending an email
I have lost or forgotten my Product Key (serial number). How can I request these?
If you have purchased NictaTech Software products and lost your product key, you can use
this form to have your product key e-mailed to you.
Please enter the e-mail address that you used to purchase product in the form. If your order is found, your product key will be sent to that e-mail address.
PLEASE NOTE! We can only send you product key if your email address has been verified in our system.
Product Activation
Before activation please download and install latest version of Digital Patrol.
You will receive an e-mail from NictaTech Software with your personal product key (serial number). Please have this e-mail handy before running the activation process. To fully activate your copy, a special activation code, unique for your computer needs to be downloaded from our server, so please make sure to establish Internet connection before starting this process.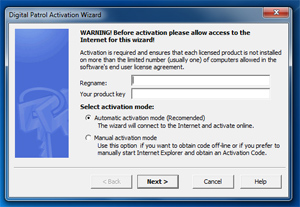 Step by Step Activation process
– Connect to the Internet
– Run your Digital Patrol. You will see the nag-screen with three buttons – , and (Evaluate). Press the button to start the activation process.
If your trial period is not expired — click
Windows (Start) button — (Programs) — (Digital Patrol Scanner 5.0) — (Digital Patrol activation)
– Enter your Registration Name and PRODUCT KEY
The best way not to make a mistake entering this data is to use copy and paste (you can use CTRL+C hotkey to copy selected information to Windows clipboard and CTRL+V to paste it). Please make sure you are connected to the Internet before continuing. Press Next button.
– After verifying your name and product key and downloading the activation code from our server Digital Patrol will congratulate you on successful activation.
That's all. You have activated your copy of Digital Patrol. If you failed by any reason to complete automatical activation you will be suggested to perform the activation manually. This process will not take much time. Please follow the instructions of the Activation Wizard – Manual Mode. Detailed information on manual activation process can be found on Manual Activation information page.
Why is it important to update frequently?
For secure protection of your computer from most recent malware you need to update Digital Patrol everyday. Automatic Update is a feature that allows you to update not only virus base, but also any changed program components.
Everyday update is also a feature of Digital Patrol. We update our bases everyhour. That means that you'll be protected from wide spread virus (like Nimda for example) before epidemic burst.
How soon after placing an order can I access my product key?
Immediately.
How long will it take to receive an answer to my question/request?
It's our policy that customer questions are completely resolved as soon as possible. Usually we can do this within one business day, but depending on the complexity of your question and our work flow, it may take longer to provide a comprehensive response. We will endeavor to update you, if a question requires extended time to respond.
Our registered customers have privileges in technical support.