Autorun Angel — cloud-based autorun manager and security analyzer.
Always up-to-date. There is no need for signature updates.
Autorun Angel is a tool for controlling Windows startup sections in order to provide security for your computer. Angel allows you to control software, drivers and various components launched automatically. This tool uses in-the-cloud scanning technology to detect active malware on your system, in under a minute.
Download Autorun Angel freeware version (1 MB)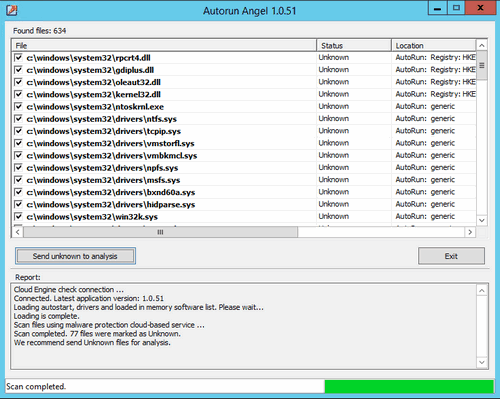 Autorun Angel helps protect your computer from spyware (computer software that collects personal information about a user of a computer without their informed consent) and other malicious software.
Traditional antivirus works via a blacklist approach, identifying known bad files and responding accordingly. Angel — the reverse of that approach, whitelisting, identifies all known good items, and can identifying malware.
NictaTech Anti-virus Cloud Engine does not collect, process or store user's personal data.
This product powered on NictaTech Anti-Virus Cloud Engine.