Digital Patrol
Digital Patrol helps protect your computer from spyware (computer software that collects personal information about a user of a computer without their informed consent) and other malicious software. You do need a second source to make sure you are secure. Digital Patrol provides anti-virus scanning without causing conflicts with antivirus software from other vendors.
Preventing Infections
Digital Patrol Web Anti-Virus — based on our new cloud Internet Threat Protection technology for transparent filtering and block web threats and validate the authenticity of URLs or any internet sources that users attempt to access.
Digital Patrol Antivirus
It should not really come as any surprise that, just like any other, your computer is under constant threat of an attack by malicious software or hackers seeking to obtain your financial or personal information. For this reason, you should have antivirus software installed and running on your computer in real-time. Leaving your computer unprotected can lead to all sorts of problems ranging from data loss to identity theft. To ensure that you have the best antivirus program installed and working on your computer, consider Digital Patrol. While it might not be one of the best known antivirus packages, it is certainly one of the most effective thanks to its unique and innovative approach to protecting your computer.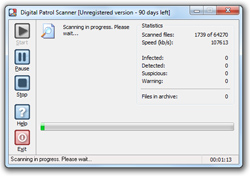 Digital Patrol prides itself on offering excellent protection against spyware. Spyware is one of the most common types of malicious software. Such programs collect personal and even financial information about users of a computer without asking for their consent first. Spyware can range from the mildly annoying yet relatively harmless to extremely dangerous. Regardless of the threat level, however, spyware of any kind is not something that you want to have installed on any computer.
Digital Patrol also provides the unique ability to provide protection in addition to any other antivirus software that you may be using. This does not cause any software conflicts and neither does it slow down your computer. This is almost completely unique in the world of computer security software.
Anti-Malware Digital Patrol
Version:
5.5 build 55
OS:
Windows 10, 8, 7, Vista, XP, 2003, 2000, NT4, ME, 98, 95

Cloud-based Security Quick Scan — autorun manager and memory analyzer. You can quick check your autorun and memory areas for spyware and viruses.
Web Anti-Virus — based on our new cloud Internet Threat Protection technology for transparent filtering and block web threats and validate the authenticity of URLs or any internet sources that users attempt to access.
Windows Security Center Anti-Virus Integration
SpeedScan Technology — enhanced performance through a new NictaTech Software scanning engine;
Rapid Updates;
E-Mail Guardian Anti-Virus for RitLabs TheBat!
Download
Digital Patrol is perhaps the best antivirus program to go for thanks to its powerful anti-Trojan scanner which can find and eliminate over 90 million different instances of malicious software. This includes all types of malware such as Trojans, spyware, viruses, rootkits, worms, malicious Java scripts and ActiveX controls. It also provides heuristic scanning and analysis as does most high-end antivirus software. This will help to protect your computer from new and emerging threats which are not known in the virus definition database. This powerful ability instead looks out for the way a program behaves to detect whether or not it is malicious code. Additionally, Digital Patrol can scan files individually contained within compressed archives of common formats. ZIP, CAB, RAR and ISO among others are supported by this feature.
Digital Patrol also offers cloud protection. This allows files loaded at start-up to be tested by the online service and dealt with in the event that they are found to be malware. Digital Patrol also prides itself on not bombarding you with any false positives. By contrast, many other mainstream antivirus solutions are often guilty of wasting your time by alerting you to non-existent threats.
If you are looking for the best antivirus program for your computer, then you may well find that Digital Patrol is the perfect choice for you. It only costs $19.95 and it supports every version of Windows from Windows 95 right up to Windows 8. Other features included are an email guardian, rapid updates and enhanced performance thanks to SpeedScan technology.
System requirements
Minimum system requirements for Digital Patrol:



Operating system: Windows 7/Vista/2008, Windows XP, 2003, 2000, Windows ME, 98, 95


512 MB RAM (minimum) 1024 MB RAM (recommended)


200 MB of available hard disk space


Microsoft Internet Explorer 5.5 or later


Internet connection for product activation and database update