Digital Patrol
Digital Patrol helps protect your computer from spyware (computer software that collects personal information about a user of a computer without their informed consent) and other malicious software. You do need a second source to make sure you are secure. Digital Patrol provides anti-virus scanning without causing conflicts with antivirus software from other vendors.
Digital Patrol powered on high performance NictaTech Anti-Virus Engine
Anti-Virus Engine is designed to detect, prevent, and remove malicious software.
Overview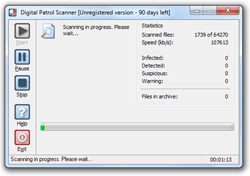 Digital Patrol a powerful anti trojan scanner, which detects and eliminates more than 90 million instances of malicious software (Trojan Horses, Spywares, Viruses, Worms, malicious ActiveX controls and Java applets).
Digital Patrol finds 100% trojan programs in-the-wild, i.e. those trojan programs which are really spread over the Internet.
Digital Patrol also makes a heuristic analysis of files (Code Analyzer) to detect new, previously unknown unknown malware, viruses and trojans.
Digtal Patrol detects and removes malware from your computer. The software uses rapidly automatic definition updates provided by NictaTech Software to detect and remove new threats.
Scans the most popular archive types and the self-extracting executable files (ZIP, CAB, RAR, ARJ, 7Z, ISO, e.t.c.).
Cloud Protection
For the files that are loaded on Windows startup, Digital Patrol send request to the Anti-Virus Cloud Engine for confirmation if these files are completely clean. When the file is unknown and not detected as 100% clean, Digital Patrol uploads the file to Cloud Engine where the file is analyzed by analysts and special algorithms.
Download
Note: «on-line setup» don't have full virus definition set and download fresh databases after setup.
Anti-Malware Digital Patrol
Version:
5.5 build 50
OS:
Windows 8, 7, Vista, XP, 2003, 2000, NT4, ME, 98, 95

Windows Security Center Anti-Virus Integration
SpeedScan Technology — enhanced performance through a new NictaTech Software scanning engine;
Rapid Updates;
E-Mail Guardian Anti-Virus for RitLabs TheBat!
Digital Patrol: Features
Digital Patrol lets you quickly scan files and access other features directly from Windows Explorer.


Quickly and easily detect spyware and other malware that can use your private information without your consent, display annoying pop-up ads, or change Internet settings.

Removes the «active trojan» from a disk, even if it is blocking the file;


Removes trojan files that are locked for writing (e.g. DLLs being used);


Keyloggers, porno-dialers, porno-downloader protection;


Simple, user friendly interface;


Scans: system memory and autorun areas (detects viruses, worms and trojans, which are running);


Scanning and cleaning of the Windows registry;


Scans: archives (ZIP, RAR, ARJ, Microsoft CAB, InstallShield CAB) and mailbases (Outlook Express, TheBat!, PlainMain, e.t.c.).


Digital Patrol: System requirements
Minimum system requirements for Digital Patrol:



Operating system: Windows 7/Vista/2008, Windows XP, 2003, 2000, Windows ME, 98, 95


512 MB RAM (minimum) 1024 MB RAM (recommended)


200 MB of available hard disk space


Microsoft Internet Explorer 5.5 or later


Internet connection for product activation and database update